Team info
Venues
Leppävaara Stadium Competition Venue: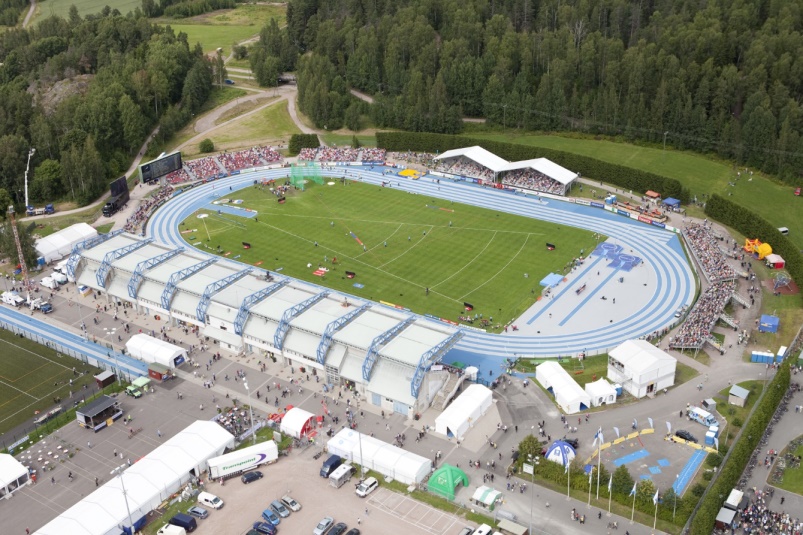 Timetable
The timetable of the European Athletics U23 Championships 2023 in Espoo/FIN is published online  – link to timetable (updated 13.03.2023).
Note that 20km Race Walking events (both Men and Women) will be held on Wednesday 12 July late afternoon.
Entries
All European Athletics Member Federations are requested to enter their teams' information into the European Athletics Entry System, based on the hereunder deadlines:
Preliminary Entries         
Opening on Tuesday 28 February 2023
Closing on Thursday 16 March 2023 (14:00 CET)
Final Entries
Opening on Tuesday 13 June 2023
Closing on Monday 03 July 2023 (14:00 CET)
The European Athletics Entries System is accessible at the following link:
https://evententry.worldathletics.org. Member Federations' entries managers shall use their
already known individual and personalised access.
In accordance with European Athletics competition regulations:
403.5. Each European Athletics Member Federation may enter up to 4 (four) athletes in each
individual event of whom up to 3 (three) may participate provided all of them shall have
achieved the qualifying standard for that event (see regulation 408.1.3).
403.6. Alternatively to 403.5, each European Athletics Member Federation may enter one athlete in each individual event if such athlete has not achieved the qualifying standard (point
408.1.3). However, the total number of athletes without qualifying standards per European
Athletics Member Federation shall not exceed two men and two women in total.
If the host country of the European Athletics U23 Championships does not have a qualified
athlete in one of the disciplines, it may enter one athlete in this discipline regardless of any
Entry Standard. The acceptance of these unqualified entries is at the discretion of the
Technical Delegates, considering the number of entered athletes but always ensuring the
quality of the event.
403.7. Each European Athletics Member Federation may enter 1 (one) team in each relay event.
Up to 8 (eight) athletes may be entered for each relay. From these 8 (eight) and from any
other athletes entered for any event in the European Athletics U23 Championships, the 4
(four) athletes to participate must be nominated at the time specified for the Final
Declaration.
Please find the entry standards & conditions available on the European Athletics website.
I Run Clean certification
403.12 Each European Athletics Member Federation may enter only those athletes who have
received and hold a valid certification for having completed European Athletics Anti-
Doping Education Programme – I Run Clean. The certification is to be achieved by all
athletes in addition to fulfilling any requirements for the qualification for the event they
are entered in.
The certificate has a validity of two years. Please make sure all your athletes have a valid
certificate before registering them in the final entries.
Official Airport
The official airport is Helsinki-Vantaa Airport (HEL) which is located about 20 minutes' drive from
the competition venue and up to 30 minutes' drive from the furthermost team hotel.
Please note that transfers can also be organised from the Central Railway station in Helsinki or
Leppävaara train station, as long as the LOC is informed in advance.
Visas
Participants from the following countries require a Visa to enter Finland and Schengen area:
ARM – AZE – KOS* – TUR
*As defined by United Nations Security Council Resolution 1244 of 10 June 1999.
The following nationalities are exempt from holding a Visa:
ALB* – BIH* – GEO* – MKD* – MDA* – MNE* – SRB** – UKR*
*The exemption shall apply only to holders of biometric passports.
**Excluding holders of Serbian passports issued by the Serbian Coordination Directorate (Koordinaciona uprava).
It is the Member Federations own responsibility to apply for Visas in due time before leaving their country, from the Finnish Embassy or Consulate, and to make sure that all the documents required for the application are complete. Incomplete applications slow down the process and may lead to a Visa not being issued on time.
Participants who require a Visa should contact the Espoo 2023 LOC and send all relevant details (as listed below) by 26 May 2023 to obtain a special invitation letter and Visa application information. It is crucial that relevant information is received by the above-mentioned deadline as otherwise entry to Finland may not be guaranteed. Please contact:
Hanne Pirkola
+358 50 3067935
office@espoo2023.fi
Requests for invitation letters shall be supported with the following information:
• Full name (first name and family name as shown in passport)
• Function in the Team (e.g. athlete, official)
• Gender
• Date of birth
• Passport Number and Passport Expiry Date (passports should be valid for at least 6
months after the end of the competition).
Team Manual
To be available by Mid-June 2023.