WELCOME TO ESPOO!
Espoo  – a city of innovations and adventurous experiences
Espoo is the second largest city of Finland and Northern Europe's largest high-tech and innovation hub where science, business and culture meet the wilderness of Nuuksio National Park and stunning seaside environment. Helsinki Airport is just a half an hour drive from Espoo. The capital region has an extensive and affordable public transportation network and the west metro will take you to Helsinki in 10 minutes.
In Espoo you are in the midst of great outdoors, but never far from the bustle of the capital. There are 58 km of coastline, 95 lakes, 165 islands, 600km of cycling tracks, 200km of cross country skiing tracks and the scenic Waterfront Walkway. Fascinating sights, sounds and events invite you to come and enjoy yourself in Espoo!
The Otaniemi-Keilaniemi area is a hub for business, innovation, research and science, where the worlds of startups, investors and international business come together at and around the lively Aalto University campus.
Looking for accommodation?
If you need accommodation, please visit: https://www.visitespoo.fi/en/sights-and-services/sleep/
HEYMO 1 BY SOKOS HOTELS
Heymo 1 is a new flexible service hotel, where everything essential is taken into account and everything is made as easy as possible.
The hotel is located in Keilaniemi, just next to the metro station, tram stop and amazing seaside nature trails. Our on-site staff, playfully known as Fixers, are available 24/7 and know the best local tips and hidden gems to the city.
Heymo 1 is the perfect choice when looking for a convenient location with the European Athletics U23 Championships stadium and Helsinki city center just 15 minutes away. Make sure to grab breakfast and snacks from the hotel's smart lockers before an eventful day in the city.
Learn more about Heymo 1 by Sokos Hotels and book with code EM2023.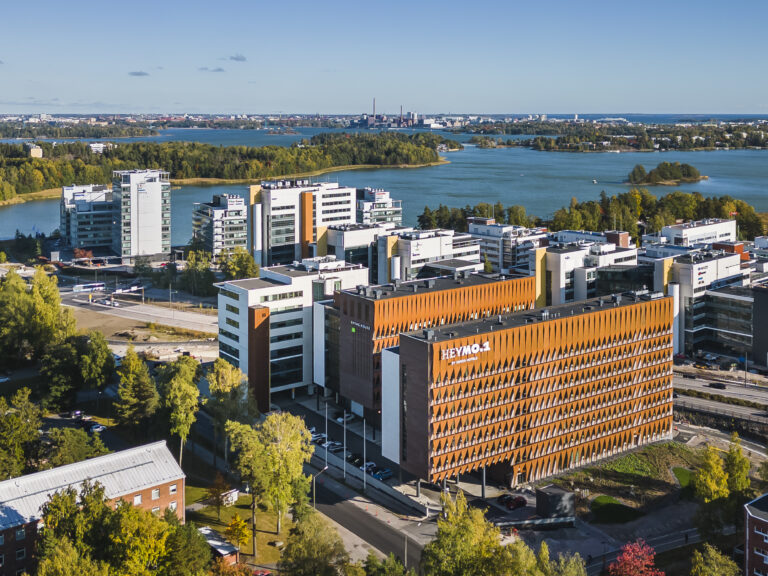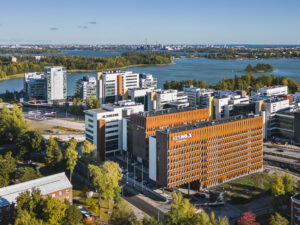 Heymo 1 by Sokos Hotels
ORIGINAL SOKOS HOTEL ALBERT
Located in Helsinki city center, Original Sokos Hotel Albert is a relaxed and true-to-life hotel radiating with the surrounding Punavuori districts personal charm. Punavuori is known as one of Helsinki's trendiest areas just a stone throws away from the city's best parks, picnic spots and Finnish design stores.
Travelling to the European Athletics U23 Championships in Leppävaara Stadium takes just 45 minutes. Hop on a tram to Helsinki central station before a short trainride to Leppävaara station, we recommend trains A, E, U and X.
Learn more about Original Sokos Hotel Albert and book with code EM2023.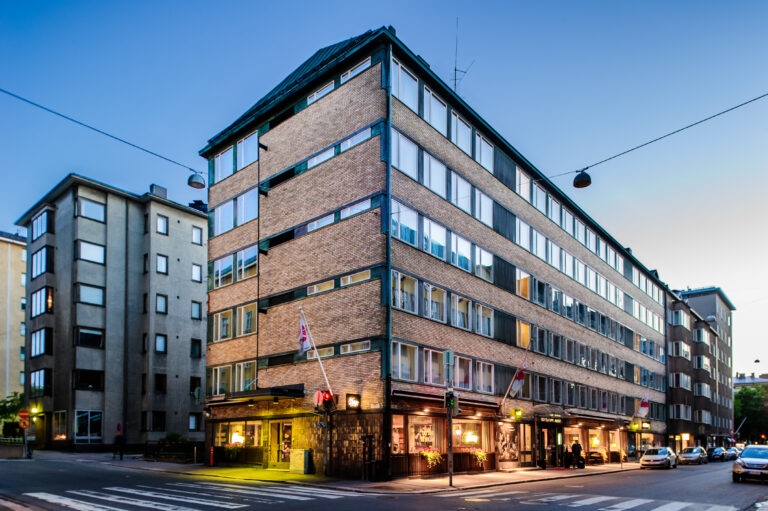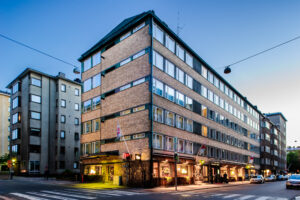 Original Sokos Hotel Albert
ORIGINAL SOKOS HOTEL TRIPLA
Original Sokos Hotel Tripla is more than just a hotel. It's a location in the heart of Helsinki's Pasila that effortlessly combines the urban community and tourists, experiences and visitors, rest and the lively pulse of the city.
We are easy to reach with of public transport from the whole of Finland. The hotel is attached to Pasila train station and the Nordic's largest shopping center Mall of Tripla, offering stores, restaurants and entertainment for all our guests. In addition, Helsinki city center's stores, events and attractions are just a 5-minute train ride away.
Gaze at bypassing trains from your room's large windows before an 8 minute train ride to Leppävaara station, just a short walk away from the European Athletics U23 Championships stadium.
Learn more about Original Sokos Hotel Tripla and book with code EM2023.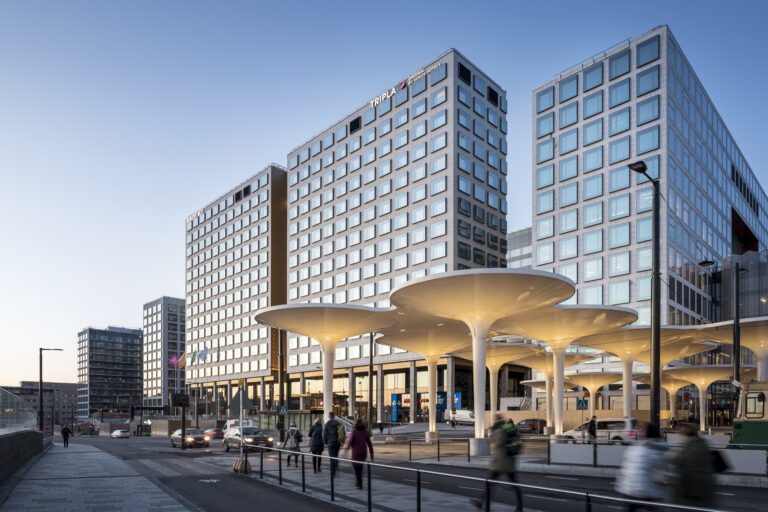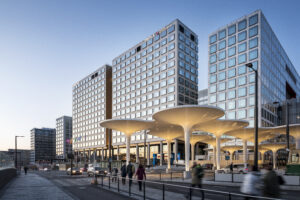 Original Sokos Hotel Tripla
Car rent
Europcar offer U23 Championships visitors 15% discount on public rates in Finland.
Enjoy your stay in Finland and take most out of your trip to U23 Championships by booking a car from Europcar. Whether your need is a compact car for two people or spacious wagon for several people, you can find a right solution for your trip on discounted rates. OneWay rentals are also possible.
You can make a reservation on discounted rates by clicking the link below and adding a code 56029503 to a field "I have a negotiated rate". When picking up the vehicle from Europcar station, please show your U23 Championships ticket to the rental agent.
https://www.europcar.com/en-us
Things to do:
Enjoy sustainable events and culture around the year in concerts and exhibitions. WeeGee Exhibition Centre consists of four museums: EMMA – Espoo Museum of Modern Art and KAMU – Espoo City Museum. The newly openeded Museum Leikki and Finnish Museum of Horology and Jewellery are located just in the neighbourhood of the Exhibition Centre. Located in Tapiola, Espoo, the exhibition centre offers experiences to visitors of all ages. In addition to exhibitions, the museums offer guided tours, workshops and various themed events.
The scheduled boats take you to Espoo archipelago on summertime. We recommend for instance a visit to the lovely Pentala Island and Pentala Archipelago Museum.
If you need some activities nearby, try the Water Sports Centre Laguuni in Keilaniemi or Treetop Adventure Huippu at Leppävaara Sports Park. Also Leppävaara Lido is located at the area of Sports Park.
Shopping and restaurants
Ainoa Shopping Centre in Tapiola is just a short walk from Original Sokos Hotel Tapiola Garden and from Espoo Metro Areena.
Sello Shopping Centre in Leppävaara within good public transportation to Tapiola.
Iso Omena Shopping Centre in Matinkylä, a bus drive from Espoo Metro Areena.
Restaurant Plats is a place where you can enjoy spectacular Nordic cuisine while adoring the coastal archipelago. A place where Nordic art and design meet world class gastronomy.
Lucy in the Sky – a rooftop restaurant & Bar Lucy in the Sky serves Scandinasian food in Keilaniemi with spectacular rooftop views.
Restaurant Villa Lilla offers delicious treats – food and great wines – in a beautiful setting in an old Villa in Leppävaara.
Restaurant GOAT offers delicious and relaxed food at the AINOA Shopping Centre with the contribution of three different popular and trendy restaurants.
Nokkalan Majakka is a beautiful seaside café-restaurant with gorgeous views to the sea. Spacious roof terrace is open in summertime.
More restaurants: https://www.visitespoo.fi/en/sights-and-services/eat-and-drink/
Further information:
https://www.facebook.com/VisitEspoo/
https://www.instagram.com/visitespoo/
https://twitter.com/visitespoo